Participants Share Their Learnings at the Final Presentations of the TOMODACHI Microsoft iLEAP Social Innovation and Leadership Program 2017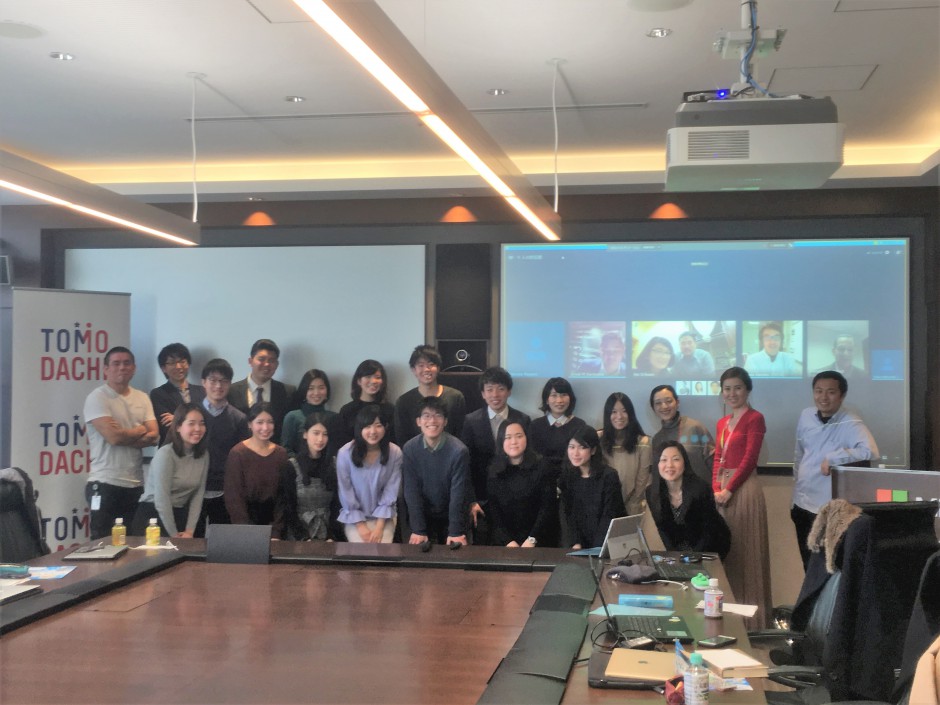 On February 16, 2018, the final presentations of the TOMODACHI Microsoft iLEAP Social Innovation and Leadership Program 2017 took place at Microsoft Japan Co., Ltd. The presentations were led by the 16 university students and young professionals participating in the program. The group traveled to Seattle, Washington, in August 2017, and at these final presentations, each participant presented on their projects since returning, their learnings from the program, and their future visions.
Ms. Kiho Moriyama, who attends the Saga University, said, "Since I come from a rural area, it was beneficial for me to learn about such information technology tools as Skype, which enabled me to communicate easily with others. I initially struggled implementing my project after returning from Seattle, but through the program, I learned the importance of sharing my vision with others.
Mr. Ryo Furuya, who collaborated on a project with Yamaguchi prefecture and Keio University, commented, "For the first time, I was able to learn and acknowledge what it means to have an impact on society through my project. The project's success was supported by many people, and I am determined to learn even more about how I can impact and contribute to societies, and develop my strengths in order to make my upcoming project successful."
After their presentations, the participants received feedback from an advisory board consisting of Microsoft employees from both Seattle and Japan offices who supported participants over the past six months and the implementing partner, iLEAP.
Ms. Lena Ryuji, Philanthropy Manager, Corporate, External and Legal Affairs, Microsoft Japan Co., Ltd., encouraged participants by saying, "This is not the end. We urge you to make the best use of the network you have built during this program and continue to take next steps."
In the afternoon, a session was led by the participants, in which they reflected on their time before and after the training in Seattle. They also explored and exchanged views on leadership at the program's conclusion.
One participant shared that "I used to think that leadership was a skill only needed for those in management positions, but after taking part in this program, I learned that leadership is something every team member should have." Another participant said, "I learned that leadership is not only about 'leading,' but also considering what you can do for others and having a sense of ownership." One other participant commented that "I want to build upon this program's experience by maintaining the participants' network, and I want to cultivate my experience even more."
Lastly, employees of Microsoft Japan Co., Ltd., also shared their views on leadership from their own experiences. The event came to a close with the expectation that participants will build on their learnings and take on the next steps in their lives.
This program is made possible by the generous support of Microsoft Japan Co., Ltd.