TOMODACHI U.S.-Japan Youth Exchange Program 2015 Student Presentation and Reception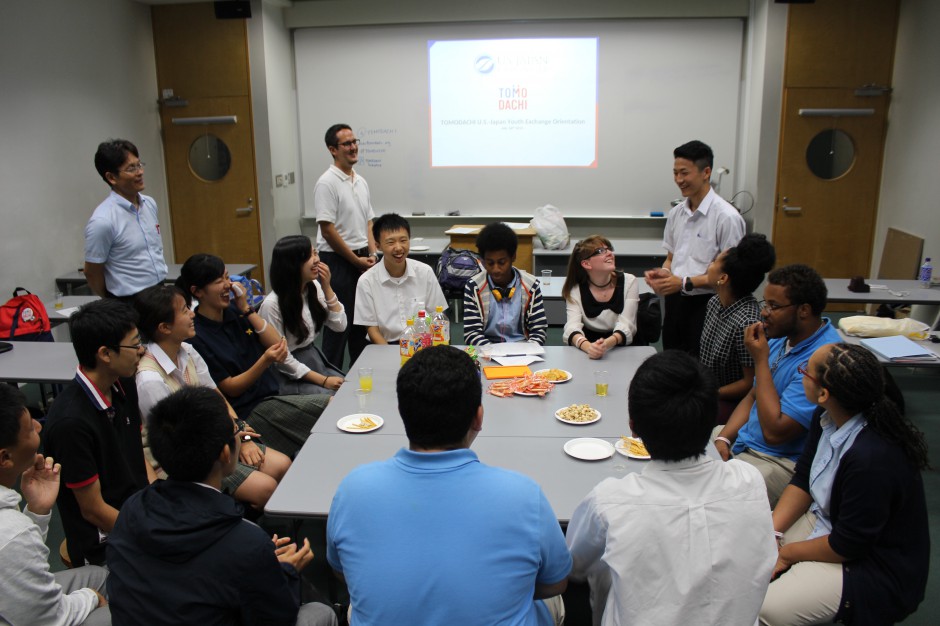 On July 29, 2015, six students from Washington, D.C., six students from Keio Shonan Fujisawa Senior High School, and two students from Tohoku came together to present what they learned after travelling to Tohoku together through the TOMODACHI U.S.-Japan Youth Exchange Program.  This event marked the halfway point of the program, as the students prepare to head to Washington, D.C. together for the second half of the two-way exchange.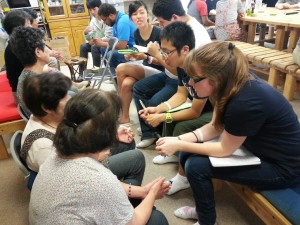 Before the event began, the students first took part in a workshop where they discussed the skills that they gained thus far and how they wanted to apply these skills learnt in the future.  They reflected on some of the challenges they had to overcome and the eye-opening stories that they heard on their trip.  Some students even expressed interest in spending a gap year or someday pursuing an internship in Tohoku.
The event featured a photo gallery, which displayed powerful photographs taken by the students accompanied by students' explanations on what the photograph meant to them.  "Hope for the next generation spurs in Ishinomaki," read Kanji Yamamoto's sign next to his photo that beautifully juxtaposed a close up of a sprouting plant representing "hope" and "new beginnings" with the construction equipment in the background symbolizing "reconstruction."
During the presentations, the students shared their experiences and what they learned from these experiences.  Korey Carter expressed how impressed he was by the resilience of Mayor Jin Sato of Minamisanriku, who barely survived the tsunami.  Carter expressed that listening to the Mayor taught him that "something good can always come from the bad, no matter how bad it is."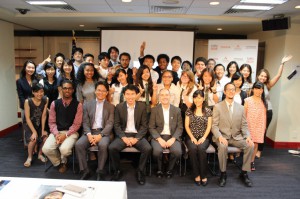 Fumiya Otani from Iwate prefecture conveyed his goal of becoming a "Global Citizen" and shared the skills that he realized were necessary in becoming an effective leader.  He called these skills the "3 Cs: Connection, Communication, and Consideration."  Many of the Japanese students, including Otani, expressed that this trip was especially memorable for them, as they discovered more about their Japanese identity.
As the students came together to deliver their powerful monologues, it was hard to believe that they had only known each other for two weeks.  As Clarence Cross, the D.C. students' chaperone quoted a famous traveler, "Traveling – it leaves you speechless, then turns you into a storyteller."
For the program's photo, click 

here
Voices from the TOMODACHI Generation
Thank you so much for helping to keep this program alive, because I can personally say now that the experience I had as a part of it this year has changed my life. After careful reflection, I have realized that this experience made me grow inward and outward; Inward as a person, and outward as a global citizen, future leader in whatever I do, and teammate. I have realized that despite living in the cultural mixing pot that is Washington D.C, I still have much to learn about other cultures and the world. It's as if I've taken off my glasses that hold an American perspective, so I can begin to see through others. I have realized that there is always opportunity, even in disaster. I have realized the importance of being a positive, contributing member of your community. I have realized the importance of maintaining tradition while welcoming change. I have realized the importance of keeping to your principles, as you told me. I have realized how tasty Japanese cuisine is, and that there is such thing as "too much raw fish."
  — Dusan Murray-Rawlings, Program Participant