TOMODACHI Alumni Present Community Development Projects at the United Nations World Conference on Disaster Risk Reduction in Sendai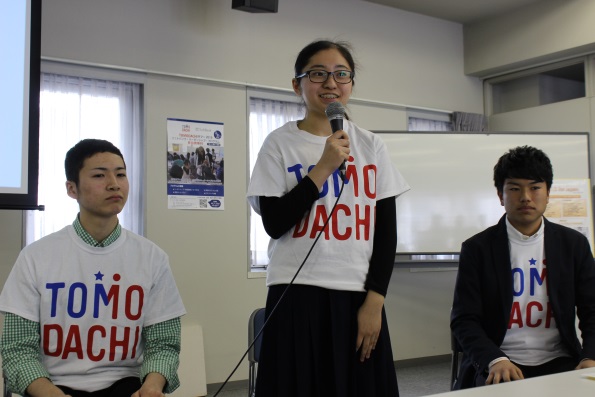 The Third United Nations World Conference on Disaster Risk Reduction (WCDRR) brought together thousands of people from all over the world to Sendai, Miyagi prefecture from March 11 to 18, 2015. U.S.-Japan Council and TOMODACHI Initiative staff, partners, and alumni attended the conference in various capacities. TOMODACHI alumni participated in many WCDRR side events throughout the conference, such as the Youth Forum and the International Women's Grassroots Academy in Tohoku (see below for more details), supported through the TOMODACHI Alumni Leadership Program. 
On the opening day, 17 alumni presented at the "TOMODACHI RAW VOICE – from TOMODACHI to Miyagi, Miyagi to the world" side event and shared their community-building efforts with a crowd of approximately 80 people. 
TOMODACHI Executive Director, Laura Winthrop Abbot, also shared TOMODACHI as a case study at an APEC-sponsored panel called "Good Practices of Women's Entrepreneurship in Local Communities in the Process of Disaster Reconstruction."
U.S.-Japan Council President, Irene Hirano Inouye, also took part in the WCDRR as Vice-Chair of R3ADY Asia-Pacific. R3ADY Asia-Pacific's side events included a discussion on partnerships for effective disaster management, which was the follow-up to a R3ADY roundtable and breakout session that was conducted in conjunction with the USJC Annual Conference in Honolulu.
International Women's Grassroots Academy in Tohoku at Minami Sanriku, Miyagi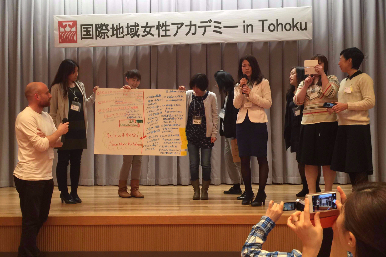 On March 10-12, 2015, women leaders from Miyagi, Fukushima, and Iwate Prefectures came to MinamiSanriku to join female NGO professionals from North America, Latin American nations and other Asian nations at the very first International Women's Grassroots Academy in Japan. 
Supported through the TOMODACHI Alummni Leadership Program by The Prudential Foundation, the Academy was created as a Pre-Conference Activity for the 3rd World Conference on Disaster Risk Reduction held in Sendai, Japan. It was hosted by Women's Eye, an organization that sprung up in the wake up the March 11th disasters that focuses on supporting and empowering women in the region, in partnership with the Huairou Commission based in New York. Megumi Ishimoto, alumni of the TOMODACHI NGO Leadership Program supported by J.P. Morgan and Executive Director of Women's Eye, was the driving force that brought this initiative to MinamiSanriku saying that there is meaning in having these international partners gather in the communities and areas that were devastated by the Tsunami in 2011, to meet the individuals face-to-face who are working hard to rebuild their lives on the ground and in these communities. 
The women worked in groups and shared their experiences and best practices. The Japanese women talked about the varying needs across the communities in Tohoku that arose after the March 11th Disasters and the initiatives they created in the region to address those needs. The other women hailing from ten different countries in North America, Latin America, and other parts of Asia discussed the disasters that occurred in their countries and the varying needs in their communities that their organizations and initiatives now address. In three groups representing the three prefectures of Miyagi, Iwate, and Fukushima, they brainstormed ideas and actions plans on how to address these varying needs of those three prefectures by sharing best practices from these international grassroots organizations that had also had to address similar concerns in their own countries. In the end, each group presented their action plan on stage at the main town plaza in MinamiSanriku where Olympic Figure Skater Miki Ando was also in attendance and spoke about the importance of women's initiatives. 
One of the participants of the Academy, Regina K Pritchett from the Huairou Commission, was selected as an opening speaker at the UN DRR on Saturday alongside high-profile individuals such as U.N. Secretary General Ban Ki-moon and Prime Minister of Japan Shinzo Abe. Regina spoke about the needs of women in disaster management, as well as the impact and inspiration she received during the three days with the International Grassroots Women's Academy in Tohoku saying: "This is partnership, local planning, community education, awareness and preparedness. This is amazing. Those women are amazing. The local government is amazing for recognizing the potential of its people and partnering with them to make the community more secure and carry forth its heritage."
The Academy was attended by a total of 55 people (40 women from all three prefectures in Tohoku and 15 women from ten countries, including the United States) gathered in MinamiSanriku for this three-day program.