Launch Event for the TOMODACHI NGO Leadership Program supported by J.P. Morgan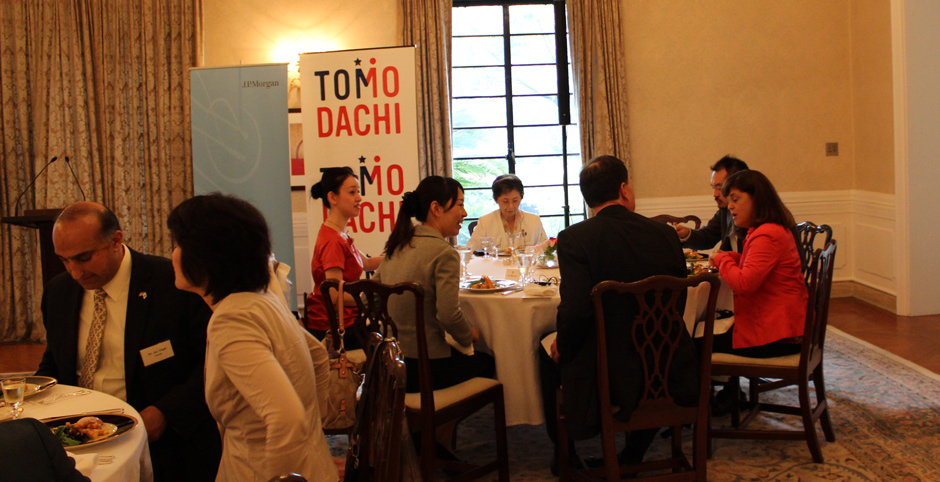 On June 21st 2013, the U.S. Embassy in Tokyo held a lunch reception at the Ambassador's Residence to celebrate the launch of the TOMODACHI NGO Leadership Program supported by J.P. Morgan. Ambassador John V. Roos and his wife hosted the event and welcomed distinguished guests that included Senior Country Official Steve Rinoie of J.P. Morgan, Chairman of the Japan Philanthropy Committee Simon Walls of J.P. Morgan, Mr. Yasuhisa Shiozaki of the House of Representatives, Director of the Second North America Division Tetsuya Otsuru of the Ministry of Foreign Affairs, and Mme. Sadako Ogata of Japan International Cooperation Agency and Special Advisor to the President. 
Yasuhisa Shiozaki, Member of the House of Representatives, gave the toast in which he said that TOMODACHI is an integral part of the future of US-Japan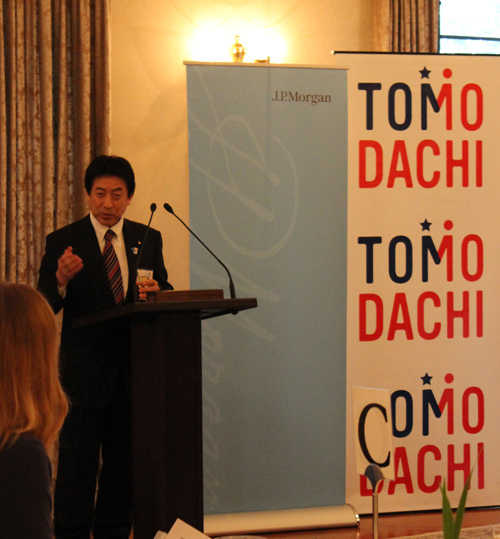 relations, especially in the NGO community because of the creation of this program. 
"We want to help domestic NGOs with their capacity building in Japan," said Mr. Simon Walls, Chairman of the Japan Philanthropy Committee of J.P. Morgan. "We believed that it was very important to try and establish some longer lasting initiatives which would have a mutli-year impact, and this NGO Leadership program will hopefully do just that." 
Mr. Noriyuki Shiina, Secretary General of Japan Platform, highlighted the strengths and challenges the NGO sector in Japan faces today. "[During the March 11 2011 triple disaster] Japanese NGOs had significant roles in post disaster relief and reconstruction," Mr. Shiina said. "However, [we] came to realize the needs of capacity development in various aspects, especially on coordination, staff training, and preparedness for better response." Reflecting on the InterAction Forum he attended with other NGO leaders in May as part of the TOMODACHI NGO Leadership Program, Mr. Shiina noted that he was "impressed with the high level of recognition given to the NGO movement by the government and the public in the United States," adding that it "inspired [him] to adapt some of the ideas learned to the situation here [in Japan]."
The TOMODACHI NGO Leadership Program supported by J.P. Morgan aims to create a stronger, more vibrant and active Japanese NGO community better prepared to work alongside international partners for effective disaster response through a series of short-term exchanges and workshops that promote idea exchange and practical training between U.S. and Japanese NGO leaders. In May 2013, the US delegation – composed of ten leaders in the NGO community from Japan – went to Washington DC to participate in the InterAction Forum where they met with key actors from the U.S. NGO sector who respond to disasters in the United States and abroad: USAID, Federal Emergency Management Agency, the U.S. Office of Foreign Disaster Assistance, among others. 
In September, a dozen Japanese NGOs will be participating in a joint training program with a dozen American counterparts in Portland, OR. Japan Platform is currently creating a training curriculum that will be unveiled in the winter when a series of training exercises focused on Training-of-Trainers will allow the NGO community to begin working on a larger scale to develop NGO capacity building for more effective disaster response.